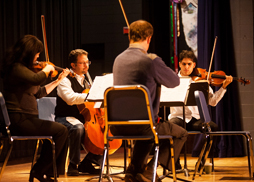 30th Season
August 8th - 20th, 2022

Thursday, August 11th, 2022
at 7:00 pm
Open Rehearsal
Chandler Center for the Arts
Admission: Free

Saturday, August 13th, 2022
at 7:30 pm
String Quartet, Duo and Quintet -
Fanny Mendelssohn, Jean Sibelius and Beethoven
Chandler Center for the Arts

Sunday August 14th, 2022
at 4:00 pm
An Encore Performance
String Quartet, Duo and Quintet -
Fanny Mendelssohn, Jean Sibelius and Beethoven
Afternoon concert in Woodstock, VT
Woodstock Unitarian Universalist Church
Presented by the Pentangle Council on the Arts as part of their summer series.
Admission at the door: Donation

Wednesday, August 17th, 2022
at 7:00 pm
A Special Event
Pedro Giraudo Tango Quartet!
This new addition to the festival offerings was such a hit last year we are adding another interesting and thouroughly enjoyable ensemble.
Program will be available soon. Chandler Center for the Arts
Admission at the door: $20.00

Thursday, August 18th, 2022
at 7:00 pm
Open Rehearsal
Chandler Center for the Arts
Admission: Free

Friday, August 19th, 2022
at 7:00 pm
Friday Night in the Gallery
Friday Night in the Gallery this year will be a Master-class with students from the Vermont Youth Orchestra coached by festival artists.
Chandler Center for the Arts
Downstairs Gallery
Admission: Free, goodwill offering at the door

Saturday, August 20th, 2022
at 7:30 pm
Strings and Piano -
Gabriel Fauré, Witold Lutoslawski, César Franck
Chandler Center for the Arts


---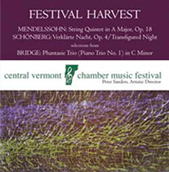 The Central Vermont Chamber Music Festival announces the release of its first highlight CD: Festival Harvest

"The Central Vermont Chamber Music Festival has come a long way since it was founded in 1993 by Peter Sanders, a New York cellist who grew up spending his summers in the Randolph area. An indication of just how far is its excellent New CD, "Festival Harvest," a compilation of live performances of works by Mendelssohn, Schönberg and Frank Bridge at the Chandler Center for the Arts in 2000 and 2004.

When I first heard the album, I had recently heard an excellent performance of Mendelssohn's A Major String Quintet at Vermont's justly revered Marlboro Music Festival. The same work opens this CD, and I actually preferred the Randolph performance. That's big praise."

Read the review from the December 2, 2005 issue of Vermont's Times Argus




Click here to download a donation form and help support the CVCMF.

or use the PayPal donate link:



Premiums for being a supporter include
(please choose one):

If you donate between $75-$249.00 the CVCMF will send a Festival Harvest CD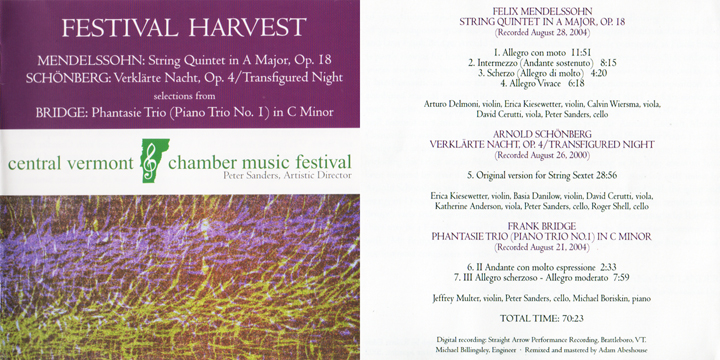 If you donate $250.00 and up, Ed Koren has generously donated prints
of the piece he drew to celebrate the 20th season, which he will inscribe to your liking.







Your support is so important.
Please consider a planned gift such as a bequest, appreciated property or securities, life insurance or charitable trust.
Your involvement now will ensure a secure future for the CVCMF.
Your tax advisor can help with the specific actions necessary.

The festival is a non-profit organization with 501(c)(3) tax-exempt status from the IRS.